Timber beams are wood especially cut to adapt for building purposes. Timber beams are less expensive than metal beams and are more visually appealing. 
We have timber beams available in White Oak and Red Oak.
If durability is your priority in building your home or a structure, hardwood timber beams are the best choice, stronger and much longer-lasting than softwood. 
Applications of Timber Beams
Timber beams are designed for structural components such as horizontal beams, trusses, and porch posts.

White oak timber is a timeless hardwood popular for beams and columns. It's highly-durable and ideal for exteriors because it's resistant to rot and insect infestation.
Finish out your timber beam frame with some rough-cut lumber.
Timber beams come in rough-sawn and dressed finishes, and your choice depends on your purpose and budget.
 In rough-cut or rough-sawn finish, the beams are roughly cut with a bandsaw and are kiln-dried. This is your pick if you're after an unfinished and rustic feel for your home or in any structural application. Since it hasn't been under any process, it is less costly compared to dressed beams.
Dressed or surfaced beams on the other hand, are planed and treated to smoothness which contributes to their high workability. Because of the processes, surfaced beams are more expensive than rough-sawn timber beams.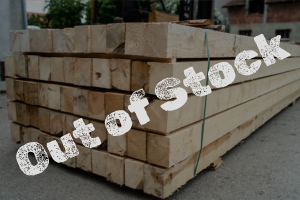 Timber beams are sold per board-foot or 144 cubic inches. To calculate how much board-feet you need, just multiply the length (inches), width (inches), and thickness (inches) and divide the result by 144.

Catale Sawmills offers custom-cut rough-sawn beams. Choose from different quality hardwoods: white oak, red oak, hickory, and walnut. 
Ready to find out about our hardwood?
Drop us a line today for a free quote!